MEET OUR TEAM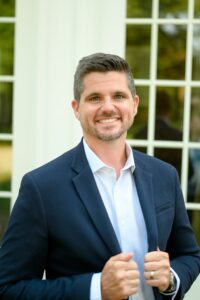 Jayme Wood
President, Principal Broker and Owner 
Jayme was born and raised in Powhatan. He still resides in Powhatan today with his wife Stefanie, three boys and two dogs. Jayme loves being active in his community and spending time outdoors. He cherishes his time at the lake relaxing and fishing, and also loves working in his yard, gardening, building birdhouses and soaking in nature! He comes from a long line of family who have loved this area and who helped shape it to what it is today. From a Grandfather who was the Postmaster for 25 years and also served on the Powhatan Planning Commission, to a Grandmother who pioneered the way the education system is today. He is rooted in this Region and has been raised loving where he lives and still lives where he loves. He is passionate about this community and takes pride in his role as a Real Estate Broker because he knows he is nurturing the vary roots of where he was planted. He recently served on the Board of Directors with the Powhatan Chamber of Commerce. He is a long time member of the Rotary Club of Powhatan and the local Ruritian Club. Jayme also holds a General Contractors License in the state of Virginia. He is well versed in the construction Industry which he believes provides his clients with a great deal of education and knowledge to the Home buying and selling process!
Stefanie has lived in Virginia since 2003. She has lived throughout the Richmond metro area and currently resides in Powhatan with her Husband, Jayme, and three boys. She holds a degree in Management and Leadership and has held her Real Estate License since 2013. She comes from a background of Medical office management so she is accustomed to working with many types of people and prides herself in accepting people as they are. Stefanie thrives on finding her clients a home that meets their "wish list" and gets just as excited as the client when the "perfect" home is found!  She has a passion for our planet and strives to live an eco-friendly life. She serves as Co-Chair on the Earth Day Coalition of Powhatan which educates the community on how to live a more sustainable life. Stefanie also serves on the Anti-Litter Committee. She loves to watch her boys grow, flourish and get dirty! She enjoys hiking with her Husband and taking weekend getaways whenever possible.
Looking for a Real Estate Agent who puts you first?
If you're planning to buy or sell a home, you wan the process to go successfully. If you're selling, success means getting your property sold quickly and for the highest price possible. If you're buying, it means finding your next dream home and getting into it, affordably. On top of that, if you're like most of my satisfied customers, you also want everything to go smoothly, with as little stress as possible.
How can you ensure all that happens? By working with a real estate agent who truly puts you first.
I'm proud to be the real estate agent of choice for those who want a great experience buying or selling a home. My "clients-first" approach means that you'll be working with a professional who listens to you, provides expert advice, and works hard on your behalf.
The Expert by Your Side
When you're selling: My track record of success means I know how to showcase your house effectively, market and promote it so that it attracts qualified buyers and get it SOLD for the highest price. Throughout the process, I'm with you every step of the way, making sure your questions are answered, all the details are handled expertly, and the entire experience is a positive one.
When you're buying: My expertise in the local market means I can introduce you to homes that meet your criteria – and notify you immediately of brand new listings. I can advise you on what to look for when viewing a home, so you don't make a catastrophic mistake, and I can arm you with in-depth details on every property you see. When you find a home you fall in love with, I know how to negotiate effectively so you get that property, at the best possible price. In fact, nothing pleases me more than saying, "The home is yours."
The Right Real Estate Agent for You
Whether you're buying or selling, it's ultimately about realizing a dream. I understand how much the decision will mean to you. In fact, that's one of the reasons I became a real estate agent – to help people buy or sell a home, while making the process easy and trouble-free. Clients often tell me how much they appreciate my expertise, my willingness to be there with them every step of the way, and my determination to get them the best deal. They also tell me I'm friendly and a pleasure to work with – which is quite a compliment!
Next Steps
If you're looking for a real estate agent, it's important that you find someone who is a good fit for you. So let's talk. Whether you're selling or buying, I'd like to learn more about you and your needs and goals. You can count on me to "tell it like it is" and give you a realistic picture of what is possible.
Contact me to get in touch.
As a real estate agent who puts clients first, I look forward to hearing from you.